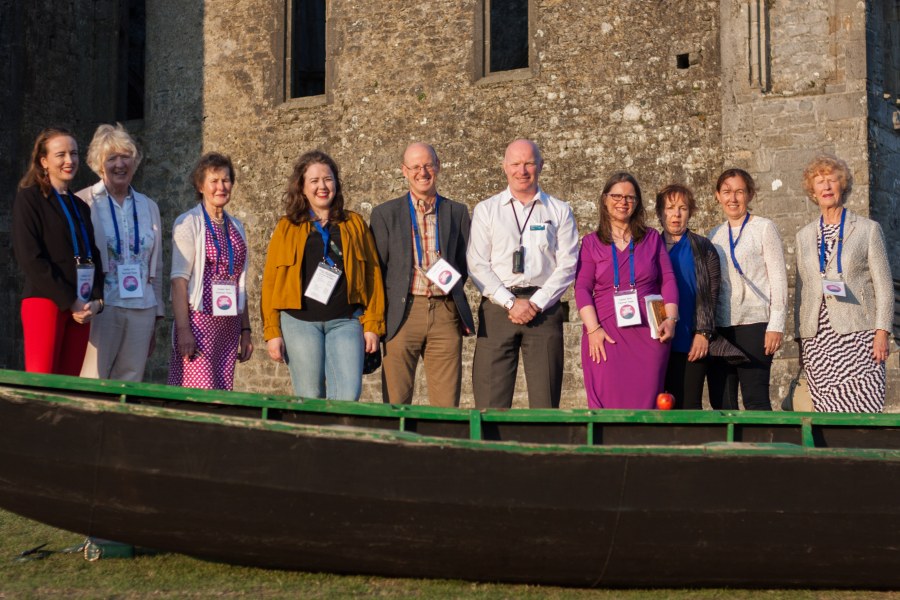 Cashel Arts Festival Brochure Launch
The launch of the brochure for Cashel Arts Festival took place on Saturday 1st September at the Rock of Cashel. In her speech Anne Marie O'Donnell, Chairperson, said the theme of the festival this year is 'Reflections'. She thanked the voluntary festival team for their months of work culminating in the brochure and the festival which runs from 20th – 23rd September. The team is: Anne Marie O'Donnell, Eibhlís Maher, Claire Fox, Diarmuid O'Leary, Geraldine Stockil, Mark King, Eleanor Dwyer, Anne Devitt, Emily Kirwan, Petronelle Clifton Brown, Josephine McCan, Gillian Brennan, Paul Maher, Yuliya Shilnikova, Catherine Fogarty and Maebh Ryan. She also thanked the festival sponsors, stating that the festival is reliant on their generosity. Appreciation was expressed to and Elaine Moriarty and the OPW staff for hosting the event. The OPW is also kindly holding other events in the Rock of Cashel as well as an art installation in conjunction with Men's Shed and Cashel Tidy Towns curated by artist Aoife Banville in St. Dominic's Abbey during the festival. Anne Marie said she hoped the 'festival weekend will give us the raw materials to create new visions of ourselves and new reflections' and that 'the variety of arts on offer would add new and lasting layers to the fabric of Cashel'. In line with the theme, the Bolton Lecture on Saturday 22nd September will be given by ex-Labour MP, Chris Mullin, who lead a campaign to free the Birmingham Six. His talk will be based on his recently published memoir (Hinterland) and will reflect over a fascinating life lived fully. Phelim Drew (son of Ronnie Drew) will perform Orwell's Down and Out in Paris & London in which Orwell leaves his life of privilege and re-casts himself as a down and out. This play will take place at Brú Ború theatre on Thursday 20th September following the official launch of the festival by award winning author Julian Gough. The evening also included a showing of the magnificent film The Camino Way by Dónal Ó Céilleachair with some of the film crew in attendance on the night. Brochures are available in local shops and businesses and to download at www.cashelartsfest.com Cashel Arts Festival – 20th – 23rd September 2018 includes the inaugural Taste of Cashel, Craft Demonstrations, Culture Night, music, workshops, street theatre, film, visual arts and a host of other events. Photos of the beochure launch can be found under the Gallery section of our website..
Newsletter
Sign up for our newsletter to receive updates on this and next year's festival.